Harvest the Power of the Sun This Summer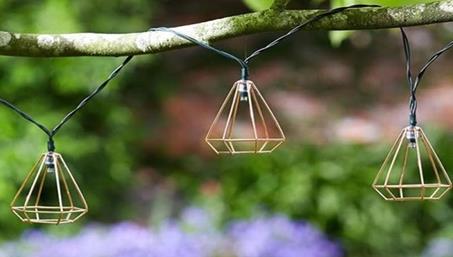 How quick is this year going?!
We hope you're enjoying your summer days and evenings out in your garden, but sadly this season is whizzing by in no time!


Make the most of the rest of the summer by adding some new twinkling lights to your outdoor space. Whether you like to grab some peace and quiet and the relax in your garden solo, or if you love to entertain and host garden parties and gatherings, there's always a reason to treat yourself and add some brand-new Garden Lighting!
In this blog we take a look at our fantastic range of Solar Garden Lighting products to help you to put all this sunshine to good use to power your new lighting display!
If you're in the mood to party, these products will be a super choice! String lights and festoon lights of any kind are perfect for creating a party atmosphere and will brighten up your garden to keep the fun going all through the evening! Here we have our 10 Solar Eureka Lightbulbs, 10 Geo String Lights, 3 Retro Outdoor Bulbs and our Coastal Lit Bunting. All are perfect for dressing your garden, patio or decking for that upcoming event. Or if you're not in the mood to party, these serve as fantastic lighting decorations for any use!
If lanterns are more your thing, we have a great range of Solar Powered Lanterns too. These are an ideal decoration for placing on your outdoor dining table, walls or for hanging from trees, and will add inviting lighting to any garden. Here we have our Brushed Bronze Solar Candle Lantern and our African Style Lantern, both perfect for both modern and traditional gardens.
There are no running costs or maintenance to our solar lighting products, just leave them out in the sun to charge in the daytime and enjoy at night time, so they are perfect hassle free garden decorations!
Why not create your own illuminated flower bed to enjoy at night time? Our beautiful, glass Bluebell and Rose Stake Lights come in packs of 2, so with these two lovely designs you can easily create your own flower display. These will bring any flower bed, border or plant pot to life, and the stunning, detailed petals can be enjoyed in both the day and night! There's no need to worry about forgetting to switch them on, they will automatically turn on at night time and with a full charge will stay on for 8 hours!
More great lights for illuminating your paths and borders are our 4 Rainbow Stake Lights and 2 Spotlights. Available for just £19.99 this is a mega value pack of a total of 6 lights, to light up garden areas or to show off other focal points in your space. The eye-catching design will be perfect for all garden styles and would be perfect for the front or back yard!

Or how about adding some fairy magic to your garden or patio? We have a wide selection of our Fairy Houses and Decorations that are solar powered, so the whole family can enjoy these charming decorations at all times of day. Just like our Willowdale Mushroom Fairy House, perfect for creating a magical fairy wonderland in your back yard!

We have lots of great Solar Lights for animal lovers too!
How lovely is the intricate pattern on our Metal Silhouette Elephant Light?
This doubles as a pretty decorative piece by day and a great solar light by night! The projections that this light creates are also very eye-catching, shining these on any floor or wall surface where the light is placed.
Here we also have our Woodstone Hedgehog Light, perfect for adding interest to any garden or patio. The warm white LED lights will twinkle away during the night, but is great for creating a natural, rustic decoration in the day as well!

We hope this blog will have helped you to see some of the fantastic Solar Garden Lights we have on offer this season. There's still plenty of time to treat yourself, we're hoping this sunshine will hang around a little longer!
Don't forget to head over to our full Garden and Home Shop website to browse the full range of Garden Lights available, there really is something for every need and every kind of garden design!